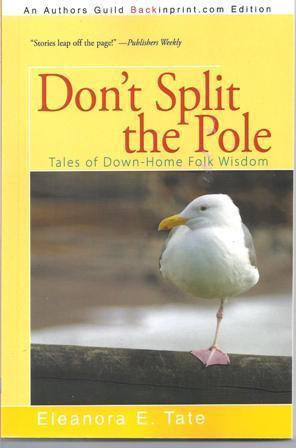 Don't Split the Pole: Tales of Down-Home Folk Wisdom

Copyright 1997, 2014 by Eleanora E. Tate
" ... stories leap off the page and lodge straight in the funny bone. This collection of seven short stories, all based on common proverbs, are unconventional and exuberant."
-- starred review,
Publishers Weekly
For all ages ISBN: 978-4917-3267-0 $10.95 paperback
Order through your local bookseller or contact:
iUniverse LLC 1-800-288-4677 www.iuniverse.com
An Authors Guild Backinprint.com Edition
Film:
Just an Overnight Guest
, starring Richard Roundtree, Rosalind Cash, Fran Robinson, Tiffany Hill, and Elinor Donahue. Watch the trailer on YOU TUBE.
Phoenix Learning Group: www.phoenixlearninggroup.com
Audio Books:
The Secret of Gumbo Grove
, and
Thank You, Dr. Martin Luther King, Jr.!
, narrated by actress Kim Staunton.
Recorded Books, Inc.: www.recordedbooks.com
Get Your MFA in Writing for Children at Hamline
  Hamline University's Creative Writing Programs in St Paul, MN offers a two-year, intensive, Masters degree seeking low-residency program "Creative Writing for Children and Young Adults." Award-winning writers, sensitive editors, and guest writers will keep you inspired and writing. I'm pleased to be on the faculty.
Go to: http://www.hamline.edu/cla/mfac/