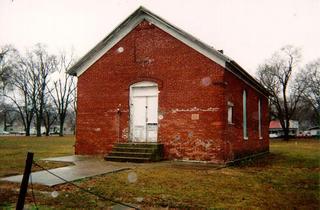 "I write books and short stories so that everyone of every ethnic group can read about the proud history and culture of African Americans. I share what I have seen and experienced, and what other folks have told me, to create a good read."
-- Eleanora E. Tate
 
   I was born a few blocks west of the Mississippi River in Canton, Missouri. Canton is located in Lewis County in the extreme northeastern part of the state. I have an older brother and sister, and mother, and was raised by my maternal grandmother, Mrs. Corinne Johnson. Had she lived, she would have celebrated her one hundredth birthday in 2002, born in the same year and in the same state as poet Langston Hughes.
  The African American side of my Tate name in Lewis County goes back at least 150 or more years.
  I spent my first year of school in Lincoln School, a one-room, segregated facility for African American students in Canton. It had only about 15 students in first through eighth grades, and one teacher, Mrs. Birdie Nickerson. She was probably the first African American professional that I came in close contact with. She was also my Sunday School teacher and my piano teacher.
  At Lincoln School I learned to read. Lincoln School, which was built
in 1880, was closed in 1955, when we Lincoln students were integrated into the "white" Canton school district. My sister and her classmates, who were being bussed some forty miles each way to the segregated Douglas High School in Hannibal prior to that time, had been integrated into the "white" system the year before.
  Lincoln School is still standing. Just get on Business Highway 61 in northeast Missouri and go north (or south if you're coming from Keokuk, Iowa) to Canton. This little brick schoolhouse is located in Martin Park there and is on Missouri's National Register of Historic Places.
  After years of hard work, perseverance and love, members of the Canton community are restoring the old school, I've been told. There was a small fund for repairs that came from the sale of Second Baptist Church (the "Black" Baptist church in Canton that we attended) by the dear remaining widowed members years ago, along with contributions from individuals like myself and my sister's high school reunion celebration and many others. The last I heard the church was being used by the school district as a child-care facility, so it's still educating children.
   I've also been told that many other restorations have been made to both buildings, which are both owned by the City of Canton.
   My fictional chapterbook Front Porch Stories at the One-Room School (1994; 2007, Just Us Books, publishers) continues to tell the story and proud history of Lincoln Colored School.
  Lincoln School (and other African American schools like it) has a distinguished legacy. Those Black teachers who taught in those schools instilled in their students a firm educational foundation.
  You who are in all-Black schools today, learn, learn, learn and strut your stuff!
   In second grade I began attending the integrated Canton School District. After my first-grade friend Christine from Lincoln moved away, I think I became the only African American student left in second grade there. In third grade I remember reading The Wizard of Oz, The Boxcar Children, and Alice's Adventures in Wonderland, a present my mother gave me one Christmas. My third-grade teacher's name was Mrs. Lasswell.
  A terrible nightmare that I had when I was around nine or ten became the basis for the first short story I can remember writing. I don't think I wrote down many more stories for a while, though. I was too busy playing soccer (in a dress on a gravel and asphalt playground) and softball. We girls played soccer with the boys. We had to be tough and not cry when we fell and cut up our knees on that gravel.
   I wrote my first "book" when I was in sixth grade. It was thirty pages long and it took me all summer.
   I still have that little manuscript -- proof that even as a child I wanted to plant my messages on paper, see them develop deep roots, strong stalks, and bloom, and share the blossoms and the harvest with others.
  The Lord has blessed me, because I have.

Copyright 2003 by Eleanora E. Tate, updated: 2012
IN CELEBRATION OF A LIFE WELL LOVED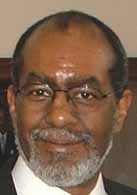 On Wednesday, May 27, 2009, at 4:31 p.m. Zack Earl Hamlett, III spread his wings and went home to be with God. Brother Zack was born December 16, 1951 in Tuskegee, Alabama, the oldest son born to Merilyn Frances Bruce Hamlett and Zack Earl Hamlett, Jr. The family moved to Kalamazoo, Michigan, where Zack accepted Christ as his savior and was a member of Mt. Zion Missionary Baptist Church. In childhood he became entranced by photography and illustration, both lifelong loves. He played flute and saxophone, and was an avid football and Little League baseball player. He was graduated from Kalamazoo Central High School in 1969.
  As a student at Howard University in Washington, DC, Zack's love for people and community was evident. He was active in the Pan African and Black Power movements, setting up breakfast programs and educational freedom schools for urban families. During this period he began calling himself "Ibn Zak" (without the c), which means "son of Zack." After moving to Des Moines, Iowa in 1972, he quickly immersed himself in the Black arts movement. He married writer Eleanora E. Tate on August 19, 1972 at the Center for the Study and Application of Black Theology. He taught photography there and assisted in other community enhancing programs.
  After completing a cement finishing apprenticeship training program, from 1974-1976 he was a recruiter/counselor for the Des Moines Area Outreach Program. He continued to photograph people and places and to draw. In 1975 he and Eleanora produced a chapbook of his photos and her poems entitled Eclipsed, the first of many such publications and projects produced under their company name of "Positive Images."
  In 1976 the family moved to Jackson, TN, and in 1978 to Myrtle Beach, SC, where he was stationed with the US Air Force. After being honorably discharged in 1982, Brother Zack became public information officer for Waccamaw Economic Opportunity Council, Inc., Conway, SC. From 1983-1992 he and Eleanora formally established Positive Images, Inc. as a syndicated African American news service and "ma and pa" public relations company.
  Through Positive Images News Service Brother Zack's photos were published regularly in the Des Moines New Iowa Bystander Newspaper, Jackson (TN) Banner, (Memphis, TN) Tri-State Defender, Charleston (SC) Chronicle, Washington Post, Des Moines Register, Myrtle Beach (SC) Sun News, and Baltimore Afro American, among many others. His graphic arts expertise garnered awards from the Grand Strand Press Association, the South Carolina Chamber of Commerce and a "Top Ten" award from the Southeast Tourism Society for the Ninth National Festival of Black Storytelling held in South Carolina in 1991.
  Brother Zack loved storytelling, and with his wife was active in the National Association of Black Storytellers, Inc. (NABS). He designed the NABS association's trademark logo. Zack served as national media relations director and co-sponsor of the 1991 Ninth National Festival of Black Storytelling, and was design consultant for the 1999 National Black Storytelling Festival and Conference held in Winston-Salem, NC, where he received the first NABS Founders Award from its founders Mary Carter Smith and Linda Goss.
  From 1995-1998 he was editor of the Havelock (NC) Times Newspaper. In 1998 he joined Coastal Community Action, Inc., Havelock, as its resource development director, and later was its interim director. At the time of his passing he was the director of the North Carolina Department of Health and Human Services Office of Economic Opportunity, and chairman of the board of the North Carolina Rural Communities Assistance Project, Inc.
  Brother Zack was graduated from the South Carolina Governor's Rural Development Leaders School, White Oak, SC in 1984, and earned a B.A. degree from the University of South Carolina-Coastal Carolina, Conway, in 1990. He was a former board member of the Arts Council of Carteret County, and a member of the North Carolina Association of Housing Counselors, North Carolina Press Association, Concerned Citizens Operation Reach-out Organization (CCORO), and the local planning committees for the SC Cross-Cultural Mental Health Conferences, among others. In 1995 he was honored by the South Carolina Senate and South Carolina House of Representatives for his community activism and photography. He was a member of St. Paul AME Church and the St. Paul Sons of Allen, and a life member of NABS.
  Brother Zack's talents and dedication to public service caused many to fondly call him "Mr. Positive Images" and "Renaissance man." He would modestly reply, "I'm just ole Brother Zack."
  Brother Zack gave up his life to the cause of helping the poor and disenfranchised who could not speak for themselves, and whose needs would otherwise be ignored.
  Memorial services were held on June 3, 2009 at St. Paul AME Church.
  He leaves to cherish his memory: his wife, Eleanora E. Tate; his stepdaughter, Gretchen R. Tate; his father, Zack E. Hamlett, Jr. (Gretchen); two sisters, Diane Cooper (Michael) and Stephenie Stevenson (Robert); two brothers, Bruce G. Hamlett (Patricia) and Reginald C. Hamlett (Jill); his mother-in-law, Mrs. Lillie Mae Tate; his brother-in-law, Donald Tate; nieces Alicia Williamson, Kimberly Hamlett, Carmen Hamlett, Elizabeth Marie Morgan, Autumn Sirles, Jheris Tate and Kel-Leigh Tate; nephews Kyle Stevenson, Nathaniel Hamlett, Joshua Hamlett, Don Tate II, Brian Tate, Timothy Tate, Gary Tate, and Damien Tate; grand nephews Camren Avant, Caleb Majors, Morgan Anderson, Kolby Tate, Brian Tate, Jr., Drake Tate, Charles Anderson, III and Cordell Anderson; grand nieces Olivia Tate, Madison Tate, and Quinnlyn Lee Tate; and a host of loving family and friends. He was preceded in death by his mother, Mrs. Merilyn Frances Bruce Hamlett, and two sisters-in-law, Evelyn Morgan and Jill Hamlett.
  Persons are encouraged to continue to honor Brother Zack by making contributions to the National Association of Black Storytellers, Inc. (NABS), P.O. Box 177, Glenwood, MD 21738. Checks should be made out to NABS and include in the memo line: "In Memory of Zack E. Hamlett, III for Youth Programming."